Bridge the Digital Divide for 3 billion
mass market consumers in emerging economies
Bridge the Digital Divide for 3 billion
mass market consumers in emerging economies
Migo's disruptive online-to-offline platform delivers gigabytes to mass market consumers 500 times cheaper than fiber
Migo's disruptive online-to-offline platform delivers gigabytes to mass market consumers 500 times cheaper than fiber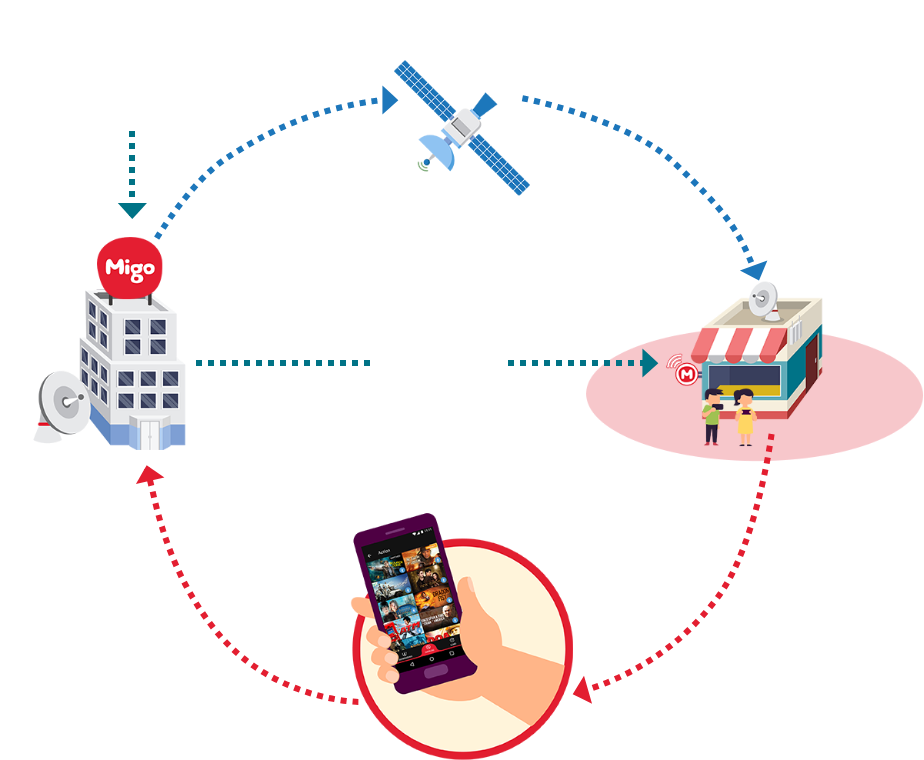 1
Content aggregation with content partners
2
Asset deployment with distribution partners
3
Content delivery to partner locations
4
Content-to-go via fast and easy Wi-Fi downloads
5
Data collection from previously data-dark consumers
Get the Migo app
Download the Migo app from the Google Play Store to start selecting from the catalog
Download Videos at the Migo Hotspot
Go to the nearest Migo Hotspot to download your favorite movies and TV shows without using your mobile data
Buy a Migo pass
You can watch as much content as you want during the pass period
Start watching
It's time to enjoy the video you downloaded!
Get the Migo app
Download the Migo app from the Google Play Store to start selecting from the catalog
Download Videos at the Migo Hotspot
Go to the nearest Migo Hotspot to download your favorite movies and TV shows without using your mobile data
Buy a Migo pass
You can watch as much content as you want during the pass period
Start watching
It's time to enjoy the video you downloaded!
Migo's curated core library is designed to drive engagement and visits from mass market consumers
Migo has built disruptive technology that radically drops the cost of distributing digital content to the mass market, unlocking a $150 billion global revenue opportunity.
The company has invested tens of millions of dollars to develop an end-to-end solution with a durable and growing cost advantage vis-a-vis existing technologies and has extremely compelling unit-level economics.
Migo Indonesia launched in June 2020. Its product is sachet (pre-paid, small denomination) content-to-go available via Migo Download Stations (MDS) hosted at convenient retail locations. It currently has 100 MDS in Jakarta.
Frequently Asked Questions
Migo built a robust solution to one of the most stubborn infrastructure problems in emerging markets: how to deliver high-bandwidth content to the mass market at a radically low-cost –
Migo's technology is a custom-built, proprietary data delivery platform, enabled by a unique emerging market Content Delivery Network (CDN).
Migo's technology is a disruptive new "pipe" for delivering large data volumes (gigabytes per day) to emerging market consumers unserved by existing technologies.
Its 3-layer system (Migo App, Migo Download Station and CDN) doesn't assume connectivity and works completely offline.
Migo's technology delivers the throughput of fixed-line broadband, i.e., many GBs per customer per day, for 500x less capex per subscriber
This disruptive technology cracks open over 70% of the market in countries like Indonesia that can't be economically served by fiber networks alone.
Migo is not a video service. Migo is a data delivery service.
Internet-based services deliver entertainment to the top 10% of the population who have fiber connections.
Migo's biggest differentiator is that our unique technology allows mass market consumers to download gigabytes of content at a fraction of the cost and in a fraction of the time (1 film in 1 minute) compared to other options.
Migo brings the best of the internet (digital services like Entertainment, EdTech, Financial Services, Shopping and Gaming) to the local corner store.
Once installed and plugged in, the MDS establishes a 50m Wi-Fi radius, and consumers can download as much content as they like.
Since the MDS is fully offline, downloads are very fast (1 film in 1 minute) and do not generate any cellular data charges for consumers.
Once the content is on the consumer device, they buy a "pass" (mini subscription) and watch as much as they like.
When the customer's pass expires, the content on the consumer device is locked until they "top-up" on another pass.
Barrett Comiskey, Founder and CEO
Barrett believes in the power of entertainment and education to transform billions of lives.
Known for being one of the "fathers of electronic ink", as an MIT undergrad Barrett developed the technology behind the Amazon Kindle e-reader, which has since delivered billions of e-books and revolutionized the print industry.
With more than 70 patents to his name, Barrett has been recognized by The World Economic Forum as a Technology Pioneer, and is an inductee of the US National Inventors Hall of Fame.
Barrett is an alumnus of the Stanford Graduate School of Business and holds a B.S. in Mathematics from MIT.
Global Supply Chain and Operations
Co-Founding CTO of YouTube
Chairman of General Atlantic, ex-Chairman, Stanford University Board of Trustees
Director for Technology, Media & Telecom Investments at Temasek
Former head of Southeast Asia at The Walt Disney Company
Managing Director for Southeast Asia at Temasek
Executive Chairman at Hysan Development, Director at HSBC and Cathay Pacific
Former head of Asia at Viacom
Commissioner, Go-Jek and Lippo Karawaci, Ex-CEO Farallon Capital Asia
12F No. 438, Guangfu S. Rd., Da'an District, Taipei, Taiwan 106
台北市大安區光復南路438號12樓
JAKARTA OPERATIONS CENTER
Graha Bin Hasan, Jl. KH Abdullah Syafei No.3, Kec. Tebet, Kota Jakarta Selatan, DKI Jakarta, Indonesia 12840
Unit 27116, 27F Menarco Tower, 32nd St., BGC, Taguig, Metro Manila, Philippines 1634